The Office of the Director of National Intelligence issued the following on Friday:
ODNI Announces Transition to New Telephone Metadata Program
November 27, 2015

In January 2014, in a speech at the Department of Justice to address domestic and international concerns regarding U.S. intelligence activities, President Obama announced that the Intelligence Community would end the NSA bulk telephony metadata program conducted under Section 215 of the USA PATRIOT Act. The President directed the Intelligence Community and the Attorney General to develop options for a new approach to match the capabilities and fill the gaps that the Section 215 program was designed to address without the government acquiring this metadata in bulk. Based on a recommendation from the Director of National Intelligence and the Attorney General, and after carefully considering the available options, in particular accepting one of the key recommendations of the President's Review Group on Intelligence and Communications Technologies, the President announced in March 2014 that the government should no longer acquire this data in bulk. Instead, the President indicated that the data should remain at the telephone companies with a legal mechanism in place that would allow the government to obtain data pursuant to individual orders from the Foreign Intelligence Surveillance Court (FISC) approving the use of specific numbers to serve as the basis for the targeted production of telephony metadata.

The President also noted, however, that legislation would be required to implement this new approach and the administration worked closely with Congress to enact the President's proposal. On June 2, 2015, Congress passed and the President signed the USA FREEDOM Act of 2015. The Act reauthorized several important national security authorities; banned bulk collection under Section 215 of the USA PATRIOT Act, under the pen register and trap and trace provisions found in Title IV of Foreign Intelligence Surveillance Act (FISA), or pursuant to National Security Letters; adopted the new legal mechanism proposed by the President regarding the targeted production of telephony metadata; made significant modifications to proceedings before the FISC; and built on the U.S. Government's unprecedented transparency about intelligence activities. With respect to the new mechanism for the targeted production of telephony metadata, to allow sufficient time to implement a new system while at the same time avoiding any lapse in a national security program, the USA FREEDOM Act provided for a 180-day transition period during which the existing NSA bulk telephony metadata program may continue.

On November 29, the transition period ends. Beginning Sunday, November 29, the government is prohibited from collecting telephone metadata records in bulk under Section 215, including of both U.S. and non-U.S. persons. And, while under the prior program NSA collected metadata in bulk and sought court approval for individual queries, the USA FREEDOM Act requires that the government must now base any application for telephone metadata records under FISA on a "specific selection term"—a term that specifically identifies a person, account, address, or personal device in a way that limits the scope of information sought to the greatest extent reasonably practicable. This further ensures that collection of information for intelligence purposes is appropriately focused and targeted, and is limited to information that telephone service providers have historically used for their internal billing and operational needs. Moreover, under the Act, the Government will report annually to Congress and to the public, among other things, the total number or orders issued under this authority and the number of targets of such orders.

As previously stated, NSA analytic access to the historical metadata collected under Section 215 has ceased. However, NSA has requested limited access to historical Section 215 metadata until February 29, 2016, limited to technical personnel and solely for the purpose of verifying that the new targeted production mechanism authorized by the USA FREEDOM Act is working as intended. The FISC is currently considering this request.

Separately, NSA remains under a continuing legal obligation to preserve its bulk 215 telephony metadata collection until civil litigation regarding the program is resolved, or the relevant courts relieve NSA of such obligations. The telephony metadata preserved solely because of preservation obligations in pending civil litigation will not be used or accessed for any other purpose, and NSA will destroy the Section 215 bulk telephony metadata as soon as possible upon expiration of its litigation preservation obligations.

With the transition period ending, the Intelligence Community has fulfilled an important Presidential commitment that allows national security professionals to retain the capabilities necessary to continue protecting the country, while strengthening the civil liberties protections that the American people cherish.

---
View the "Implementation of the USA FREEDOM Act of 2015″ Factsheet
What do you think?
I'd love to believe a change has come but I'm just not that naive.
Isaiah
's
The World Today Just Nuts
"
Hillary Ready
" addresses the craven nature of Cranky Clinton.
This is C.I.'s "
Iraq snapshot
:"
Saturday, November 11, 28, 2015. Chaos and violence continue, the Anbar Provincial Council objects to the war planes bombing Falluja, Haider al-Abadi appears to be slipping, and much more.
Today, the US government announced:
Strikes in Iraq
Bomber, fighter, attack, and remotely piloted aircraft conducted 17 strikes in Iraq, coordinated with and in support of Iraq's government:
-- Near Baghdadi, two strikes destroyed two ISIL rocket rails and damaged a third ISIL rocket rail and denied ISIL access to terrain.
-- Near Albu Hayat, one strike struck an ISIL tactical unit.
-- Near Mosul, three strikes struck two separate ISIL tactical units and destroyed an ISIL mortar position and four ISIL fighting positions.
-- Near Ramadi, seven strikes struck two separate ISIL tactical units and destroyed an ISIL home-made explosives cache, an ISIL vehicle, an ISIL boat, an ISIL vehicle-borne bomb, two ISIL buildings, an ISIL heavy machine gun, an ISIL ammo cache, two ISIL weapons caches, and an ISIL fighting position.
-- Near Sinjar, four strikes struck three separate tactical units and destroyed two ISIL fighting positions and three ISIL vehicles.
The bombings have no positive effect.
They do, however, terrorize the Iraqi people.
For example,
ALSUMARIA reports
the Anbar Provincial Council issued a statement today decrying the bombing by warplanes flying over Falluja and notes that these bombs are effecting the lives of civilians and contributing to the deaths of "women and children and the elderly." Civilians in Falluja are calling for an end to the bombings and safe passage out of Falluja.
Anbar is largely Sunni and what's taking place there in the so-called name of 'liberation' is not seen as such by everyone.
#Iraqi

army crimes Killed Iraqis Sunni children in Fallujah

#warcrimes

Save Sunni civilians in

Iraq
It's funny, isn't it, how when Iraqis object to actions by Bully Boy Bush, we on the left rush to insist that they be heard. But when they're not pleased with Barack, we turn our backs on them and act like they weren't speaking.
Or we whine about the US government interfering in an election but when Barack Obama overturned the results of Iraq's 2010 election, we fall silent.
It's because so many of us lack ethics and integrity.
Did someone say whore?
Oh, can you tell us again about Bully Boy Bush?
Please, ugly Grandma, can you tell us one more time about that?
Bully Boy Bush is a War Criminal.
He's also out of office.
Even the cheapest whore or coward can now call out Bully Boy Bush.
But remember Katrina's grand standing because it's why THE NATION is sinking.
And things will only get worse.
The digital age means Barack's two terms won't be like Bill Clinton's for THE NATION.
They can pretend -- and do -- that they held Bill's feet to the fire and led the fight for the left.
But they didn't.
Their whoring then is protected as it existed at the early stages of the internet.
Their whoring under Barack?
It's all over the internet. Not just us, but
WSWS
and many others have called them out.
They have failed to fight against Barack's continued war but Katrina sticks her ugly, big nose into Iraq anytime she thinks she can score points against Bully Boy Bush which, let's all be honest, is her attempt to turn the 2016 election to the Democrats.
She doesn't care about Iraq.
She never has.
That's why she repeatedly ignored Americans who refused to fight -- or continue to fight -- in Iraq.
War resisters found no support from Katrina.
And we documented that in real time.
So the ugly, old whore -- with a racist grandfather who got the family rich by ripping off African-American entertainers (including Lena Horne) -- needs to grasp that she's not fooling anyone.
And her father's connections to the intelligence community -- which, when noted on her Wikipedia page, she has her interns scrub -- are part of the control of the left and she needs to be rejected completely by the left.
She lies so well from her Harlem mansion.
In the real world,
Loveday Morris (WASHINGTON POST) reports
:
In a mansion tiled with salmon-pink marble, Sunni politician Osama al-Nujaifi greets visitors in an expansive meeting room. From a chair flanked by the national flag, he insists he is still vice president of Iraq — even though Iraq's prime minister says he is not.
Nujaifi's position and Iraq's two other vice presidencies were eliminated by Prime Minister Haider al-Abadi in purported cost-cutting measures announced this summer. But there is little change at Nujaifi's office. His staff is still paid, he said, and he is working as normal.
Nujaifi's defiance highlights Abadi's weak hand as he fails to execute anything but superficial changes after pledging wide-ranging reforms in response to street protests. Smelling blood as he flounders, his political rivals have turned on him, while ­Iranian-backed militias leverage what they can from him.
Barack backed Nouri (after Bully Boy Bush installed him). He gave Nouri the second term that the Iraqi voters had denied him.
Then when Nouri's strident hatred of Sunnis became even more intolerable even Barack had to walk away.
Not too far, he can't tire himself out, after all.
He stayed in Nouri's political party (Dawa) when picking the new prime minister of Iraq in August 2014.
He didn't pick well.
That's become obvious with each passing month.
Haider al-Abadi's a failure.
In a speech today,
ALL IRAQ NEWS notes
, Haider declared that he has accomplished reforms and cited opening up (a tiny) part of the Green Zone and Baghdad's night life as successful reforms.
He also spoke of the necessity to prosecute corruption . . . but offered no examples of success with that goal
.
Opening a small spot of the Green Zone -- and not even open to all Iraqis -- was treated as a major move by the press -- those who actually reported on the opening, however, tended to note how nothing had really changed.
And Baghdad's night life was already doing well before Haider became prime minister.
In fact, the biggest problem for Baghdad's night life was -- and remains -- Shi'ite police that regularly try to shut down clubs for 'morality' reasons.
As Barack continues to back Haider, it's interesting to note that the only real support he receives in Iraq comes from the man the US government has branded a threat to the US.
ALL IRAQ NEWS reports
Shi'ite cleric and movement leader Moqtada al-Sadr has called for Haider al-Abadi to continue his push for reforms even in the face of the appeal that a coalition led by Osama al-Nujaifi has filed with the Federal Court of Iraq to overrule Abadi's move to cancel the posts of vice president.
ALSUMARIA notes
this follows an October 24th decision upholding Haider's move. However,
Wael Grace (AL MADA) reports
Parliament's stating that despite voting to pass the bill they have never received the official legislation on this move.
Nothing gets sorted out.
On the political front, US Senator John McCain is in Iraq and has Tweeted the following on his meet-ups.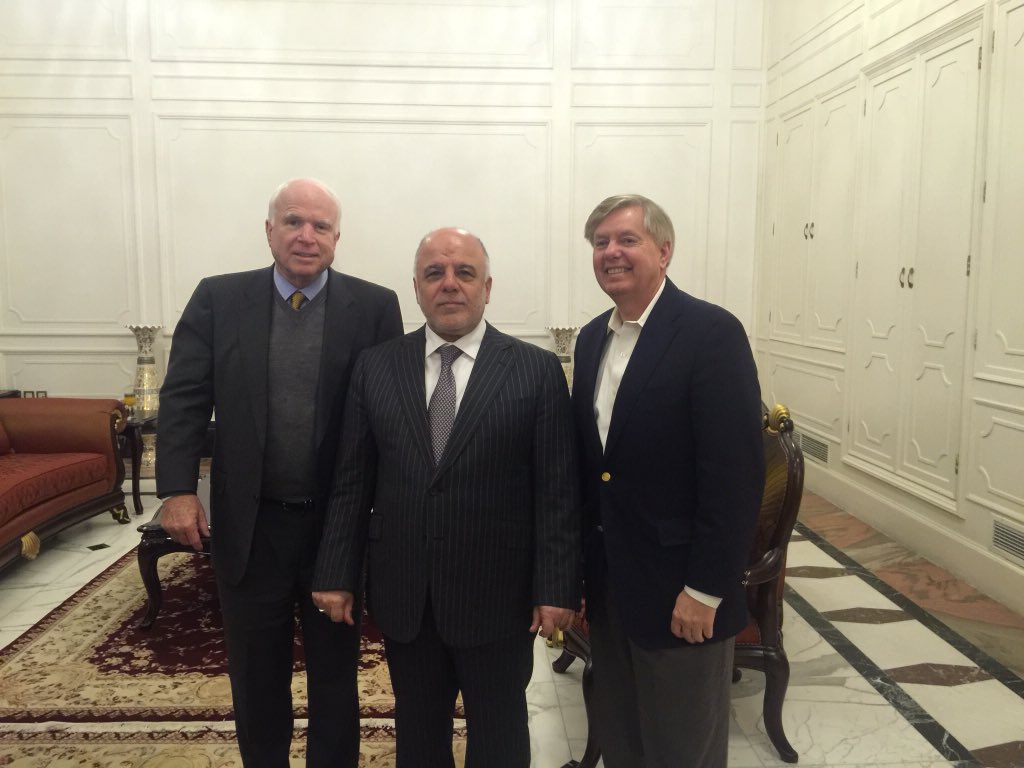 Media Matters has their Soros-bought panties in a wad as usual.
yes, @FaceTheNation has invited two GOP senators to discuss Iraq tm. No panel scheduled re: PP terror attack
It's all binary and political games to Bitch-boi Boehlert and the other Soros whores at Media Matters.
Real critics would point out that the two senators support more war on Iraq.
They'd note that this means to war hawks will be on and that there will be no voices of peace.
But for Boehlert isn't about actions or opinions, it's just about team jerseys.
They don't do media critiques at Media Matters, they just spread the text equivalents of venereal diseases.
Turning to some of today's violence,
IRAQI SPRING MC reports
government forces shelled Salman Village today resulting in the deaths of several civilians. ALSUMARIA notes a
suicide car bomber in Tuz took his own life and the lives of 5 other people with fifteen more left injured
,, a
Tarmiya roadside bombing killed 1 person
, and former
MP Mishan al-Jubouri's cousin was kidnapped in Hillah and then found dead hours later
. al-Juburi is also a Sheikh in the al-Jiburi tribe and he is part of the Sunni community in Iraq. In addition,
AFP reports
, "A bomb-rigged mass grave believed to hold the remains of more than 120 people killed by the Islamic State group has been found in north Iraq, an official said today."
Meanwhile,
David Pugliese (OTTAWA CITIZEN) reports
newly elected Canadian Prime Minister Justin Trudeau will reportedly keep Aurora surveillance jets and at least one military refuelling aircraft in Iraq:
The move would placate coalition allies, particularly the United States, who view the refuelling plane and the surveillance aircraft as valuable contributions to the ongoing air campaign.
The move would also allow Prime Minister Justin Trudeau to continue to say he is keeping his election promise of withdrawing Canada's six CF-18 fighter jets. Trudeau promised to end Canada's combat mission in Iraq and Syria by bringing the CF-18s home before March. Sources have said that there is a good chance the Polaris and the Auroras will stay…..it is unclear at this point how many Canadian Forces personnel will remain in Kuwait to support the planes.
npr
xinhua
mu xuequan
all iraq news
national iraq news agency
alsumaria
rudaw
the new york times
tim arrango
the washington post
loveday morris